DLN Success Stories of 2015!
Donated Dental Services (DDS) smile success stories of 2015!
World War II Auschwitz Concentration Camp survivor Henry, age 91 and his wife Agnes, age 84, have a colorful history, emigrating from Poland to the U.S. through Ellis Island to
Boston in 1949. Henry worked as a meat cutter until the couple bought a farm and moved their family to Northwood, New Hampshire, where they raised dairy cattle. Years later after selling the farm, Henry built clocks for the Seth Thomas Company.
Henry was referred to the Donated Dental Services (DDS) program by Concord Hospital. He had not had dental treatment for 40 years. Read how Dr. Kimberly Meyers, DDS volunteer changed Henry's life in our 2014-2015 annual report. 
---
Sandy, age 57 living in Plantation, Florida was committed to her career and loved her work as a licensed clinical social worker for a mental health crisis facility. After years of successfully managing her diabetes, Sandy went into renal failure last year and receives dialysis treatments at a renal facility three days per week. Sandy cannot work, nor can she drive due to the impact diabetes has had on her vision.
Adding to Sandy's problems, severe dental disease and a broken bridge connected her eight remaining upper teeth caused considerable pain. She also feared that her 12 remaining lower teeth might be infected. Relying on Social Security disability payments and other government assistance, Sandy had no way to pay for the dental care she badly needed.
Dr. Charles Shofnus, a general dentist and DDS volunteer came to Sandy's rescue. He extracted six teeth, placed a crown and fitted Sandy with an upper and partial lower bridge. Three volunteer dental laboratories also provided services to help Sandy. First Impressions Dental Lab in Hollywood, Fine Arts Dental Lab and Dental Prosthetics contributed to Sandy's new smile. Sandy is happy to eat salads again and actually bite into a hamburger. With her oral health restored she sees her life improving. She is completing requirements to be placed on a kidney transplant list.
---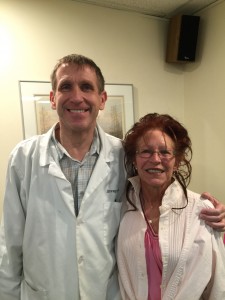 Susie, age 61, has chronic pain syndrome. Susie previously worked as a clipper in a jean factory. Now on a limited social security disability income with no dental insurance, she had painful, advanced periodontal disease and decay in her six remaining teeth. Susie was very concerned about the nutritional limitations of her soft diet. Donating extractions, a full upper denture and partial lower denture, Dr. Jeff Lodl, DDS volunteer and Dental Lifeline Network • Colorado board member helped restore Susie's dental health.